Description
Method of production
Finished in claires for one month minimum at a density of 3 kg / m2 maximum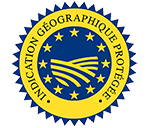 Certification IGP

All Marennes Oléron oysters are: :
Cultured on the French Atlantic coast
Finished or cultured in claire ponds in the Marennes Oléron basin
Certified by an independent inspector
Quality controlled by the quality service and independent inspector
SIZE
French will go for N°3 while Hong Konger favourite size is more N°1 or N°2
How to serve and an oyster?
Typically, raw oysters are served on the half shell with plenty of lemon for squeezing, Tabasco sauce and shallot vinaigrette (mignonette). Make sure they are still live (shell needs to be tighly close). Think about removing the first juice after having them shucked as the oyster will recreate a new one much more flavourful. Serve and eat the opened oyster in the coming hour.
From the back

From the side